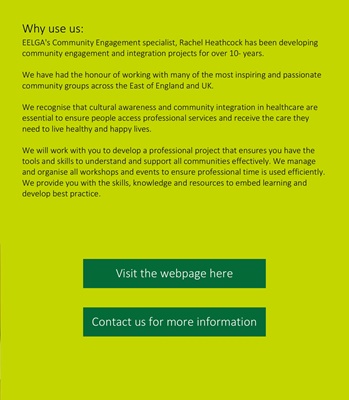 How can we help:
Why use us:
EELGA's Community Engagement specialist, Rachel Heathcock has been developing
community engagement and integration projects for over 10- years.
We have had the honour of working with many of the most inspiring and passionate
community groups across the East of England and UK.
We recognise that cultural awareness and community integration in healthcare are
essential to ensure people access professional services and receive the care they need
to live healthy and happy lives.
We will work with you to develop a professional project that ensures you have the
tools and skills to understand and support all communities effectively. We manage and
organise all workshops and events to ensure professional time is used efficiently. We
provide you with the skills, knowledge and resources to embed learning and develop
best practice.
Contact us for more information